Térence and Ophélie on the Loire à Vélo from Nevers to Saint-Brevin-les-Pins!
© Traveltheworld

© Traveltheworld

© Traveltheworld
We love sporting challenges and often spend our holidays touring. This year, because of the Covid crisis, we decided to stay in France and cycle the whole of the Loire à Vélo. Ophélie, who hails from the Centre region, had wanted to take on the challenge for a while, so it was the perfect opportunity to embark on the adventure! We started out with no time objectives. We decided to leave Nevers and travel to Saint-Brevin-Les-Pins with our equipment on our bikes (tent, sleeping bags, camping stove, etc.), motivated to the max!
Nevers - Saint-Satur: 71.53 km
We got a TER train to Nevers station and appreciated the bike spaces on board. After taking a few minutes to get ready and fix the sat nav to the handlebars, it was time for the adventure to begin! We didn't know where we were going to stop to sleep but one thing was sure: we would pitch the tent.
The weather was overcast and there was not much wind: it was perfect for cycling. The route was flat and quite well signposted (sometimes you have to look around a bit see the signs). We were surprised there weren't many people on the route, but that was all the better for us!
© Traveltheworld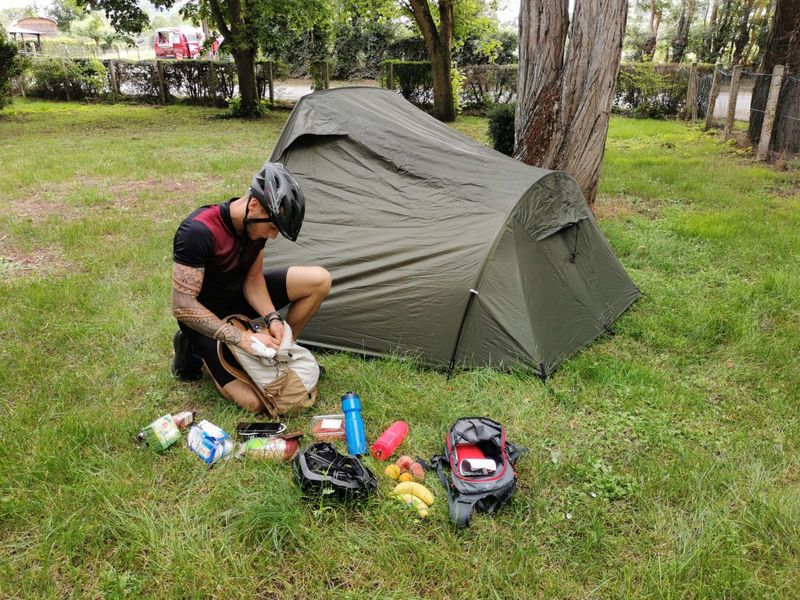 We took a break after 46km in La Charité-Sur-Loire and treated ourselves to a burger to boost our energy levels for the rest of the ride. We cycled on to Saint-Satur, where we decided to stop for the day. The campsite was quiet and there was no shortage of space!
For dinner, we decided to do some shopping and make spaghetti Bolognese on the stove. Before going to sleep we looked at the route and thought about the next day's journey. Our legs were tired but it was only the first day… They'd get used to it!
© Traveltheworld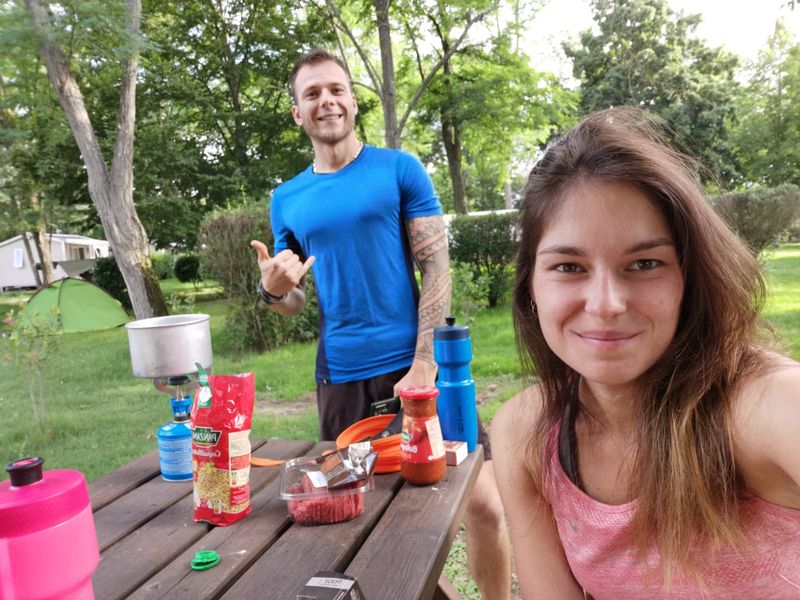 Saint-Satur - Châteauneuf-sur-Loire: 111.15 km
For the second day, we decided to leave quite early to have more time to relax after arriving. We established a daily ritual (which became a habit on all the stages!): after a few kilometres and when we cycled through little villages, Térence would stop at a bakery to taste the shop's speciality.
A welcome treat! The weather was uncertain and we got rained on for about 20 km.
© Traveltheworld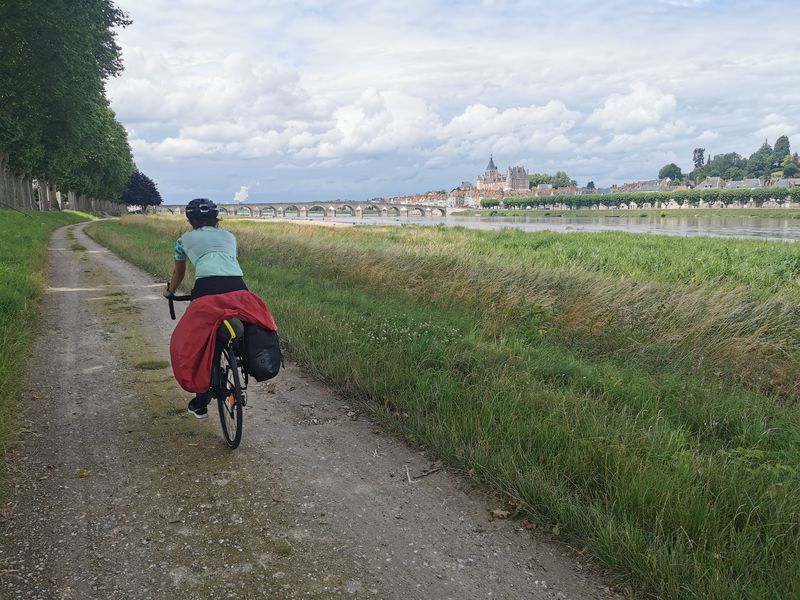 Despite it all, we made good progress and Térence was secretly dreaming of passing the symbolic 100-km mark. Ophélie knew it and, by encouraging each other, we managed to cycle 111 km to Châteauneuf-Sur-Loire. What better way to celebrate than with a pizza delivered directly to the campsite?
© Traveltheworld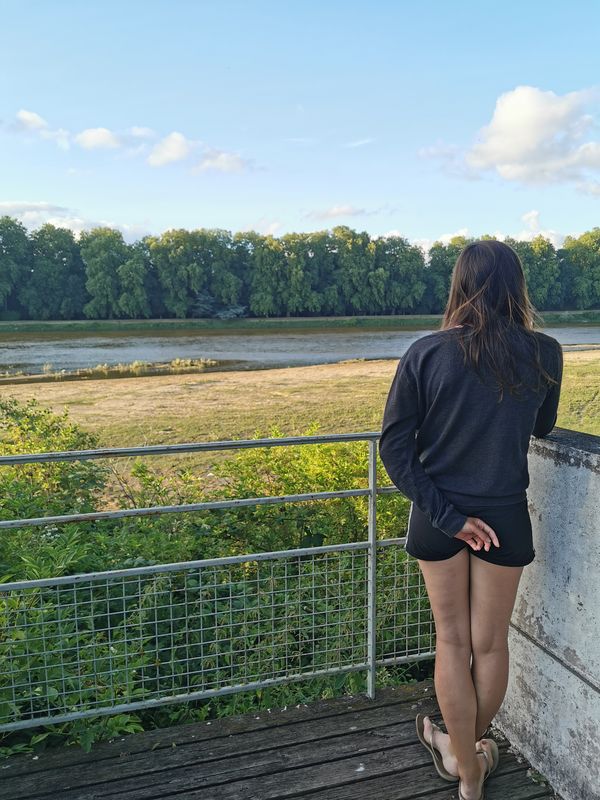 Châteauneuf-sur-Loire - Blois: 110.04 km
This morning, our legs were a bit stiff but we were ready to go. The sun was out, the surroundings were pretty and there were still not many people on the route. For lunch: sandwiches on the banks of the Loire. As the day progressed, so did we.
We started to feel tired and after 60 km we stopped to rest and refuel, wondering where we going to spend the night. Saint-Dyé-Sur-Loire? Blois? Were we going to do more than 100 km again today? The answer was yes!
© Traveltheworld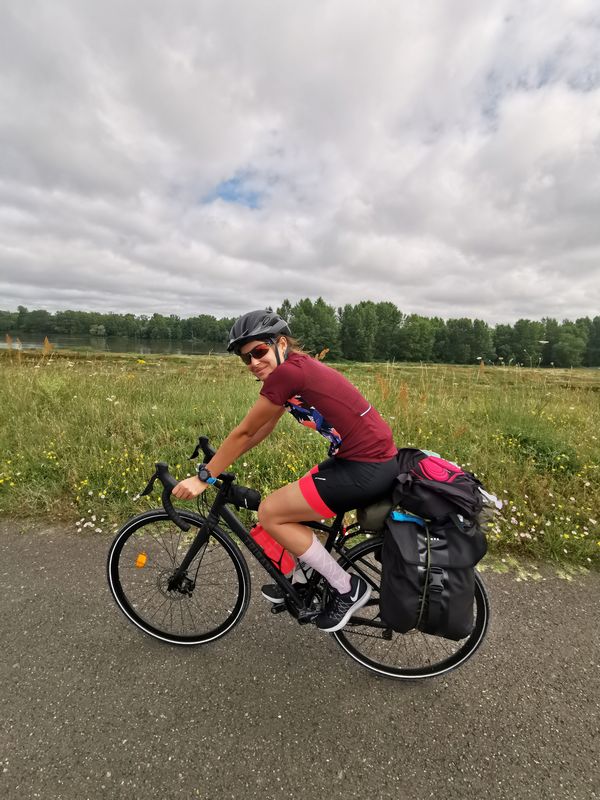 We set off in the direction of the magnificent Château of Chambord (which we had already visited) and after admiring the imposing structure, we pushed on to Blois. The only problem was that the nearest campsite was behind us… We didn't want to turn back so we decided to book a room via Airbnb.
Our host was great and that night was a match night. We went to eat in an INCREDIBLE Indian restaurant called "Le Madras"! We would recommend it without hesitation!
© Traveltheworld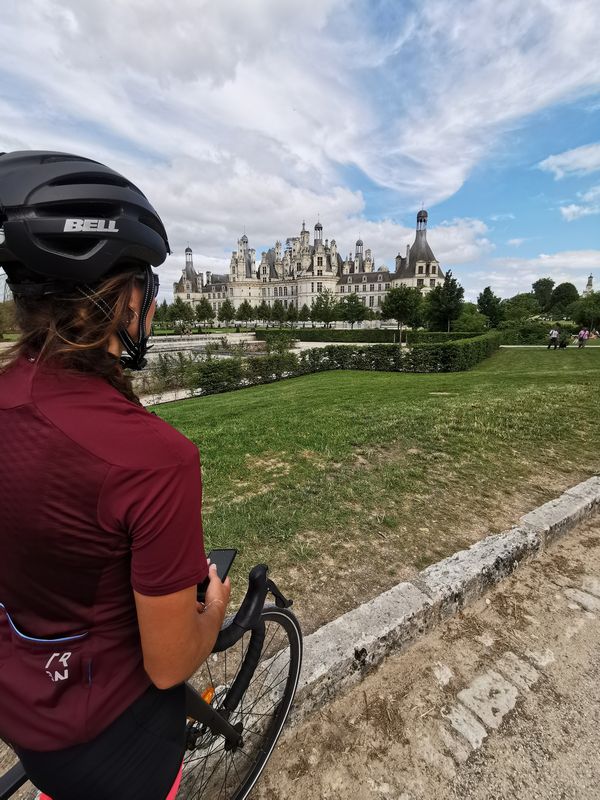 Blois - Chambray-les-Tours: 81.49 km
Today, our legs felt heavy after two days of over 100 km. We decided to go to Amboise and stop at the Château of Le Clos-Lucé to visit Leonardo da Vinci's house and see the exhibition of several of his inventions. The rain set in during our visit and bad weather was forecast for the next two days.
We were equipped for all weather but, to be honest, it's much nicer when the sun is shining. We decided to stop in Chambray-Lès-Tours and stay with family for the two days of rain.
© Traveltheworld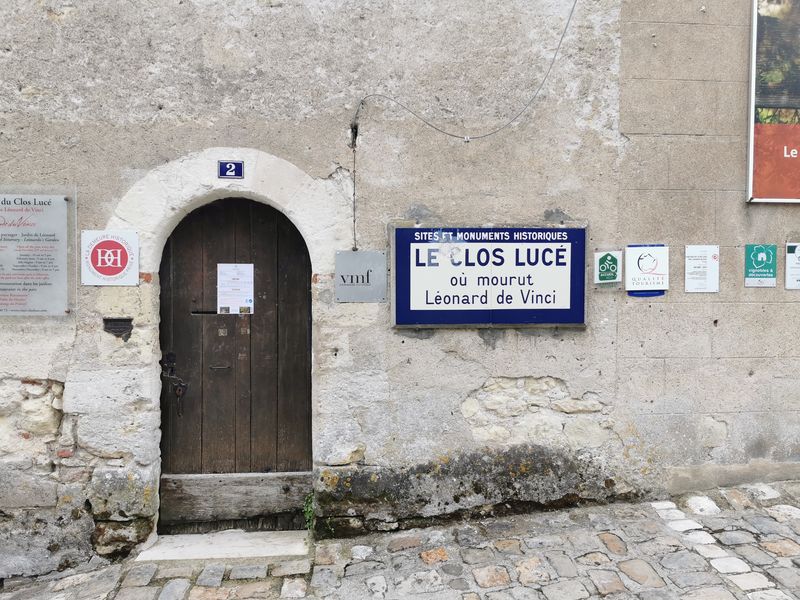 Chambray-les-Tours - Saumur: 86.12 km
After two wet days and some well-deserved rest, we finally set off again in glorious sunshine. Direction Saumur! A pleasant section. The route was slightly hilly, with vineyards as far as the eye could see and the Château of Saumur perched above the city when we arrived. The view of the château from the campsite was incredible.
© Traveltheworld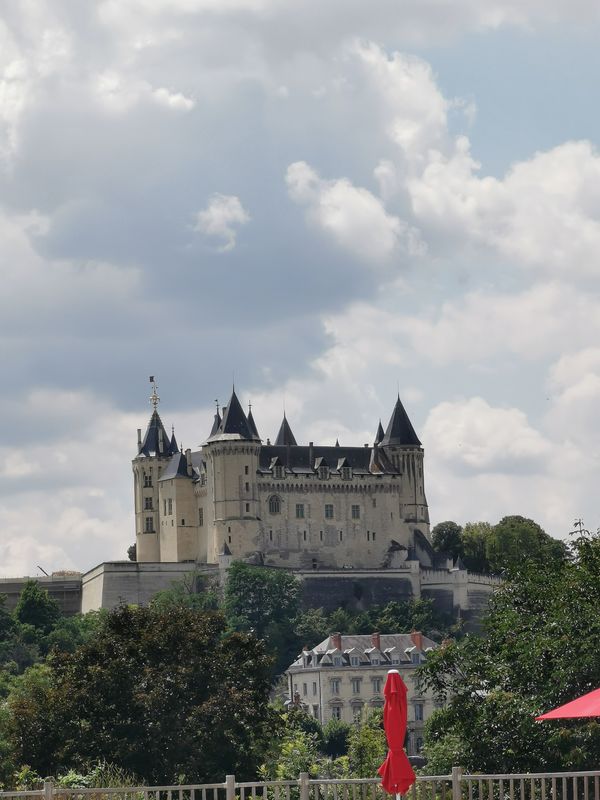 We decided to go for a walk in the town to stretch our legs. A little bonus at the campsite: the ripe mirabelle plums right next to our tent!
© Traveltheworld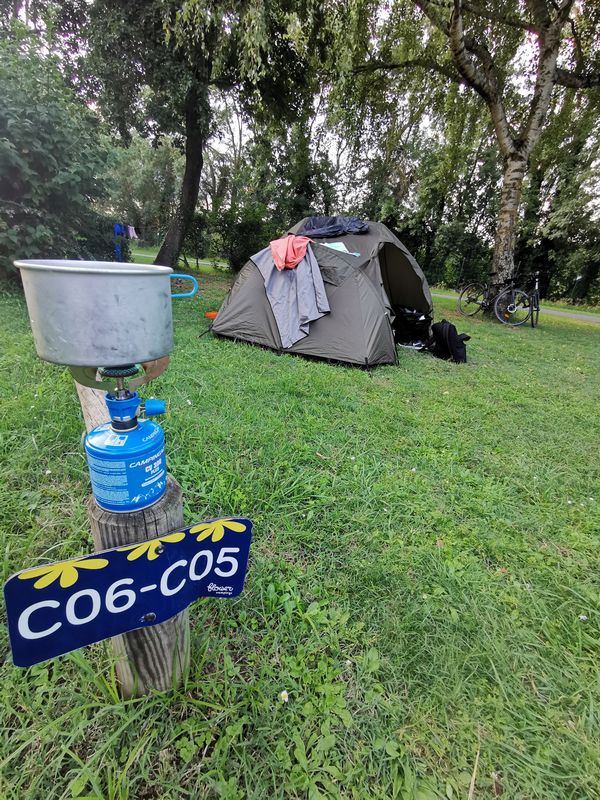 Saumur - Angers: 68.79 km
The sun was out and stayed with us all day! We did a shorter stage that day, cycling to Angers with no problem, but then we got stuck behind a crane on the road. I tried to go round with the bike, but I soon found myself in water up to the derailleur. We took a detour to return to the main route a little further on.
© Traveltheworld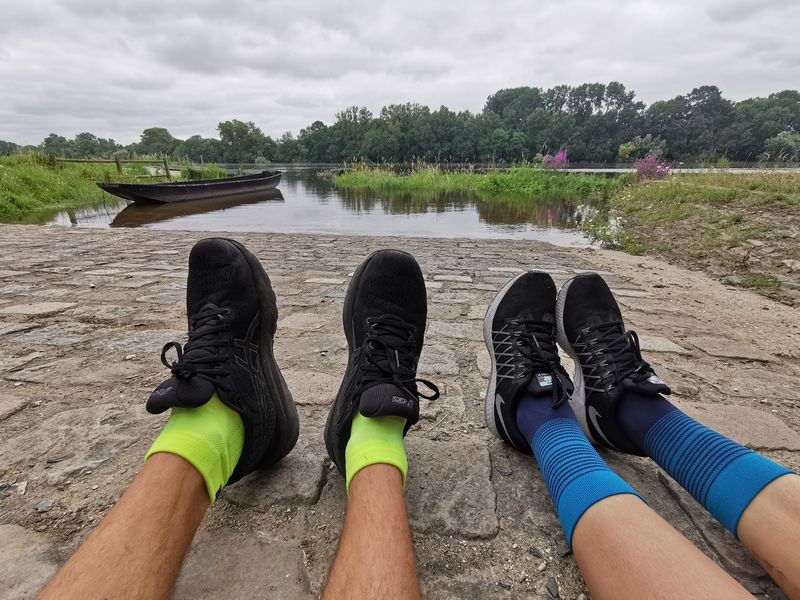 After arriving at the campsite in Angers, we spent the evening chatting with our neighbours who were doing the same route in the other direction. These moments of exchange were also something we appreciated about this adventure!
© Traveltheworld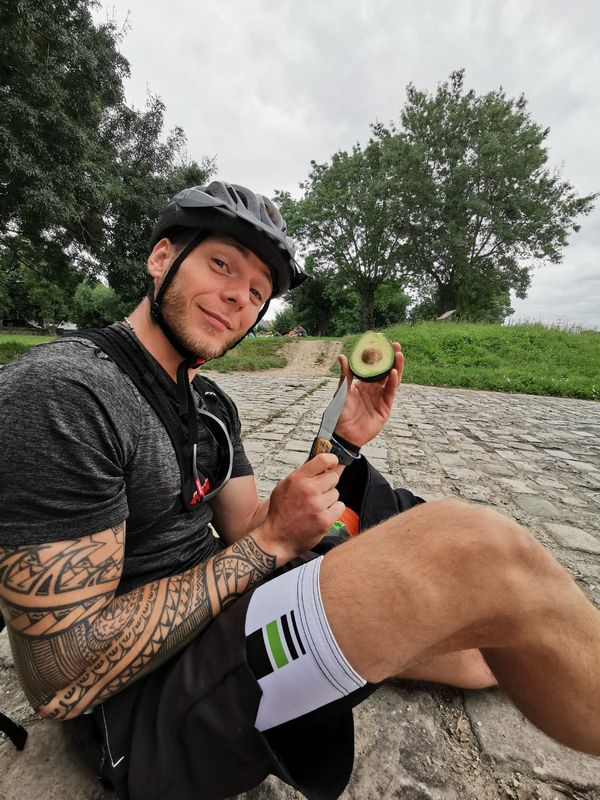 Angers - Nantes: 106.08 km
After a few days' rest and shorter distances, we were determined to cross the 100 km mark again today! We met more people along this section of the route and sometimes had to slalom our way through. The sun started to heat up, especially in the early afternoon and we began to feel tired. We were eager to arrive at our destination and pitch the tent at the Nantes campsite but we were met with bad news when we got there…
The campsite was full! We had two options: turn back and cycle 20 km to another campsite, or cycle the same distance further on. We were tired and didn't want to get back on the bike. Eventually, some Belgian holidaymakers, who had heard that we could not get a place, asked to be upgraded to free up their pitch so that we could have it. What luck! And how kind of them! To thank them, we invited them to share pre-dinner drinks and nibbles, a well-deserved treat for both them and us, ha ha!
© Traveltheworld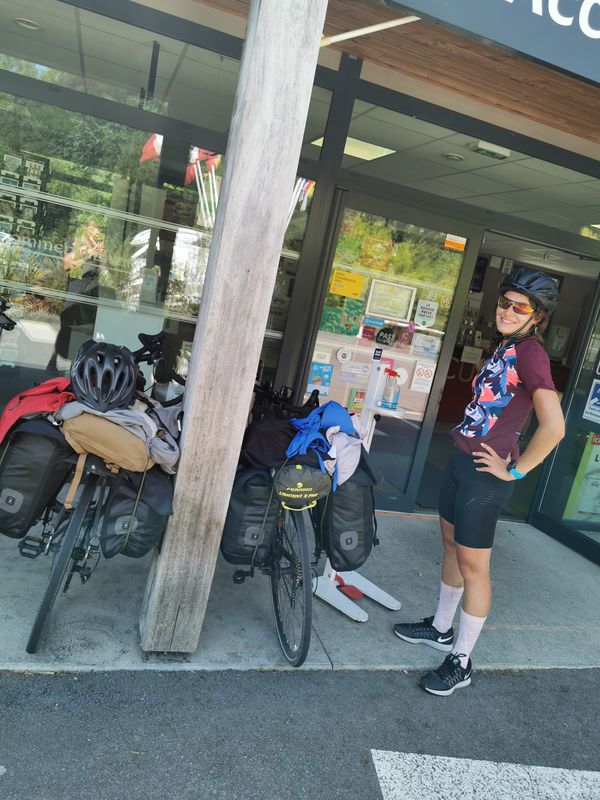 Nantes - Saint-Brevin-les-Pins: 60 km
Here it was, the last stage! It was easy going that day, with a fun boat crossing. We really enjoyed this last stretch along the estuary. We finally arrived in Saint-Brevin-les-Pins. There had been no mechanical problems with the bikes, the stage ended in glorious sunshine and we were ready to eat before going to the campsite. It was market day and we arrived just before it closed.
A few Reunionese specialities, grilled chicken, melon and cherries. A meal we won't forget! To top it all off, we bought artisan ice creams at the "Les Gourmandises de Lily" bakery. We then went to the campsite to swim in the pool.
© Traveltheworld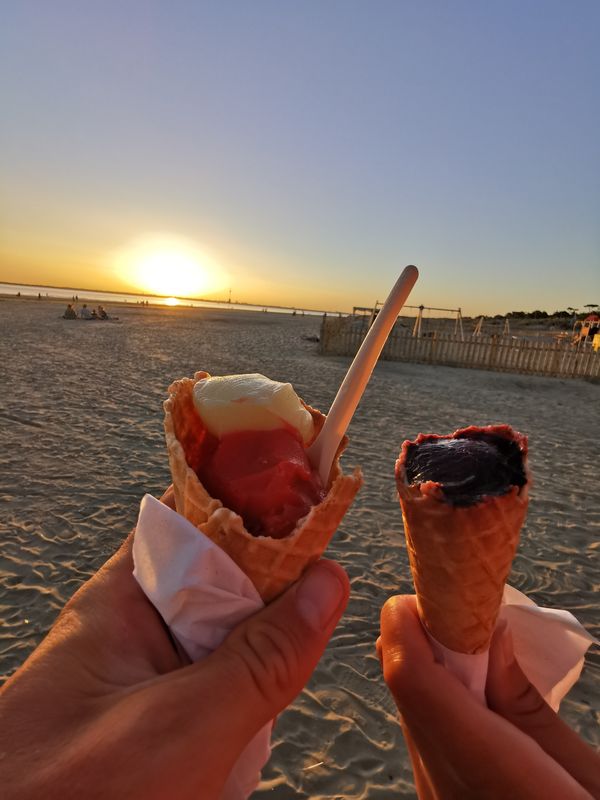 The Loire à Vélo: a flat, peaceful and pleasant route (when it isn't raining)
It was time to go home. We took the very practical and free shuttle between Saint-Brévin-Les-Pins and Saint Nazaire to catch a TER train to Nantes.
695 km in 8 days.  We didn't do much sightseeing but we enjoyed the adventure. We'll remember every day of the journey and we realise how lucky we are to have this kind of itinerary in France! Don't hesitate to take the plunge, even if you are not very sporty. You can stop whenever you want to visit more or just take your time! You can see our route here.
Follow all our adventures on Instagram: Térence on his account and Ophélie on hers.